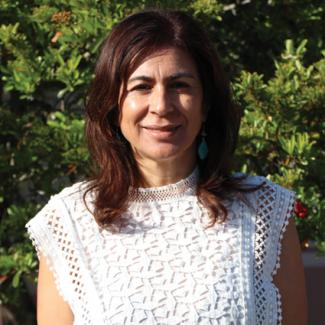 Preschool Teacher
Brown Door
I have been working at Orfalea Family Children's Center since 2008, but have been in the field of early education for the past 20 years. I have a BA degree in Early Childhood Studies from California State University Channel Islands. I like to continue work on my education by attending workshops and online classes about Early Childhood Education.
I really enjoy working with children and helping them use tools and strategies for learning experiences, as well as watching them grown and develop, socialize, explore, experiment, problem solve and make sense of the world! I love to implement art projects every day. Reading books and cooking activities. I enjoy going on walks and exploring nature with them. In addition, I also enjoy teaching the students my primary language, Spanish.
Learning together every day is very rewarding, especially when I see a child discover something new and do things that she or he could not do in the past. I believe that creating strong relationships with children and their families is important to facilitate the growth and development of the child. In my free time I like to spend time doing outdoor activities with my family like walks to the beach, hiking or jogging. My favorite foods are seafood, Italian and salads. I am looking forward to working with your children in Brown Door.