Mission Statement
We are committed to striving for the highest standards in early care and education programs and, in so doing, supporting the children, families, and students of UCSB. University affiliation motivates us to be leaders in early care and education through direct service to families enrolled and as a valuable resource for the greater UCSB and surrounding community.
 
Image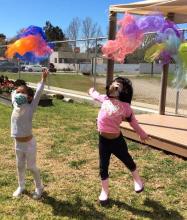 The UCSB Early Childhood Care & Education Services Children's Centers provide quality child care programs for student, staff and faculty families within the University and surrounding community.  At ECCES we respect children's natural capabilities and share our passion, empathy and enthusiasm in a reflective and collaborative way. We provide a supportive, nurturing, and encouraging environment for children and their families to develop relationships, to discover new ideas, to construct knowledge through play and to cultivate a joy for learning.
Collaboration
We value children for who they are and who they are becoming; and we value the privilege of coming together to accompany them and their families on this journey.
Integrity
We value individuals' unique competencies and the gift of learning from one another; and we value the power of shared observation and reflection to expand, enrich and harness this learning for inspiration and possibility.
Community
We value the strength of our community, built through celebrating and honoring the richness of our diversity; and we value working together with compassion for our common humanity, to serve as a resource and agent for positive change and support.
Inquiry
We value curiosity, wonder, joy, friendship, play and the power of the imagination; and we value meaningful and respectful interactions, caring and responsive relationships and thoughtful, intentionally planned experiences and environments that delight, hearten and embolden.