Image
OFCC has six preschool classrooms that serve children aged three through five years and one "older preschool" classroom with children transitional kindergarten age eligible or who are turning five years old between December-March (based on availability/subject to change).
We believe that children learn through self-discovery, hands-on exploration indoors and outdoors, and interaction with others; that these experiences will help them develop confidence in their own abilities; and that play is the primary medium for early learning. 
Our curriculum emerges from the child's interests. Topics for study and project work come from children's experiences, conversations, questions and ideas. They are provided with many opportunities for authentic learning, discovery and investigation. Collaboration and small group work is supported by the staff who encourage exploration in an enriched learning environment.
Children have the opportunity to express their ideas and hypotheses in a variety of ways that include art experience, writing, construction, music and gardening. The larger the variety of ways children are able to express themselves the deeper their understanding grows. At all times the developmental level, natural affinities and the family and home environment of each child are considered.
 
For questions regarding the Preschool program:
Please contact Tamara Thompson, Preschool Program Coordinator, at 805-893-4904 or via email tamarat@ucsb.edu
Frequently Asked Questions
Image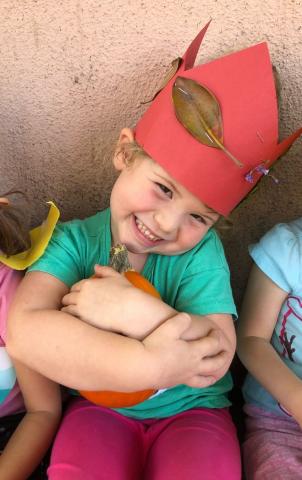 Routine and Schedule of Daily Activities
Teachers work together to plan indoor and outdoor schedules to ensure all children have access to various activities and environments throughout the day. The schedule is posted in the classroom. The Centers follow a daily routine that is adapted to the children's interests or needs. The length of time spent during one part of the day may change from one day to the next, but the pattern or order of events throughout each day is consistent and predictable. Children do best when there is a clear understanding or expectation of the daily routine.
Preschool Daily Schedule (3-4 years)
Arrival
7:30-8:30 - Children and parents are greeted by their teacher and children are encouraged to visit a classroom learning center or participate in a table activity. Depending on the time of arrival, children and parents will often use this opportunity to read a book together before their good-byes.
Classroom Project Work
8:30-9:30 - Children will work in small groups on a project of their choice. Teachers have also planned activities that will build upon skills and encourage children to explore ideas and concepts through open-ended materials and questioning. Projects can be extended in order to give children an opportunity to add depth and detail to their exploration and research. Through this open-ended balance of teacher/child-initiated learning, both teacher and child are researchers. Teachers use observation and documentation of children's work for both assessment and curriculum development.
Morning Snack
9:30-10:00 - Children are provided a nutritious snack. Teachers and children sit family style so that children can express ideas, use language, make plans, and practice good eating habits.
Circle Time/Planning
10:00-10:30 - The morning circle allows children and teachers an opportunity to come together as a whole group. The whole group experience offers children the opportunity to express ideas, make plans, learn concepts and create a sense of community. Music and stories are utilized as a teaching tool to facilitate language and literacy development and for pure enjoyment!
Outside Exploration
10:30-12:00 - Children use this time to explore our beautiful natural spaces. They make tunnel systems in the sand or research one of the many insects and critters that have made their habitat in the yards. Children also have the opportunity to co-mingle with other classrooms so that they may develop relationships and practice social skills with new friends.
Lunch and Rest
12:00-2:30 - Children eat family style with their classroom. Eating family style in small groups allows children the opportunity to engage in thoughtful conversation and model healthy eating habits. Teachers are active participants in conversation and help to facilitate cooperation and model pro-social behaviors. After lunch, children use the bathroom, wash hands and pick a favorite book to read during rest time. Lights are dimmed and tranquil music plays softly in the background to insure a calm transition to quite time.
Afternoon Snack
2:30-3:30 - Children awake to wash their hands for afternoon snack. Children then self-select a quiet activity while other friends are waking.
Afternoon Circle and Work Time
3:30-4:30 - Teachers and children come together to discuss ideas, expand on concepts, read books or play cooperative group games. Teachers are skilled listeners able to assist children in developing language, cognitive and social skills. This important time of day allows children the opportunity to be thoughtful about their workday and allows teachers the opportunity to assess thought process and to plan curriculum that supports children's interests and learning.
Outdoor Exploration/Departure
4:30-5:20 - Children co-mingle with other classrooms on the play yards so that they may develop relationships and practice social skills with new friends until departure.