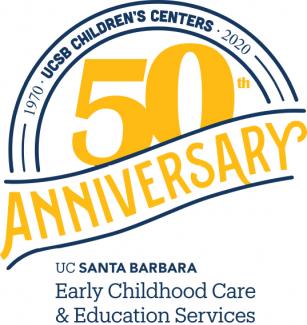 Welcome to UC Santa Barbara's Early Childhood Care & Education Services (ECCES), a high-quality early education program serving young children and families of the UC Santa Barbara community and community at large in a full day, year-round program.
ECCES operates two dynamic childcare and learning centers, the Orfalea Family Children's Center (OFCC) located on the west campus and the University Children's Center (UCC) located at the Student Resource Building on the main campus. ECCES has received accreditation from the National Association for the Education of Young Children since 1990 and has a 5 star rating through Santa Barbara Quality Rating and Improvement System (QRIS).
In 2020, ECCES celebrated 50 years of service to our community. Please join us as we celebrate our past, present and future.
UCSB West Campus
Santa Barbara, CA 93106-1060
Phone: 805-893-3665 | Fax: 805-893-4907
1300 Student Resource Building, UCSB
Santa Barbara, CA 93106-1065
Phone: 805-893-7030 | Fax: 805-893-6078