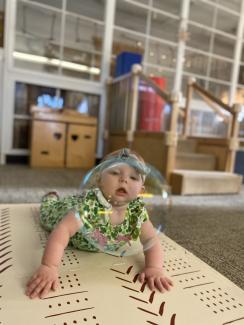 The program maintains a waitlist for families wishing to enroll their children.  Children are selected for enrollment at the Centers by their waitlist priority date within the following priority guidelines. Priority is based on: children with currently enrolled siblings who will be continuing with the program, affiliation within the University, balancing faculty/staff and student enrollment ratios and by the needs of the Centers to fill vacancies in particular age groups.
ECCES reserves a limited number of subsidized spaces for families who meet need and income eligibility requirements set by the California Department of Education (CDE). Income eligibility is based on family size and family's total monthly gross income. Subsidized applications are placed on the eligibility waitlist according to the CDE Income Rankings. Families with the lowest income need are first on this eligibility list regardless of the date they applied.
Families are allowed on the waitlist as soon as, but not before, they have a 'due date,' theoretically up to 8 months prior to the birth of their child.  Wait list dates will reflect the date the form and fee are received by the Children's Centers.  Families formed through adoption or similar circumstances such as a foster parent or guardian situation, please contact the Enrollment Coordinator.
Complete wait list application below and remit applicable fees to complete your wait list application:
Staff/Faculty/Post Doc/Visiting Scholar/Community - $25 per child
UCSB Student - $15 per child
No fee if applying for financial assistance - Complete additional application on Financial assistance page
The wait list fee is non-refundable. 
 
Make check payable to UC Regents and mail to:
UCSB Children's Center
UCSB West Campus Point Lane
Santa Barbara, CA 93106-1060