NAEYC Accreditation
Our program has been accredited since 1990 by the National Association for the Education of Young Children (NAEYC). NAEYC's National Academy of Early Education Programs oversees the Nation's largest and most widely recognized system for early care and education schools and centers.
In order to receive this honor
Each three to five years, the Centers undergo a voluntary and stringent self-review and submit to an external professional review to verify compliance with the comprehensive criteria.
Parents, teachers and administrative staff are all involved in the self-study process.
The criteria cover everything from positive, warm teacher-child interaction to effective and nurturing environment while promoting the physical, social,  emotional and intellectual development of young children.
More information on the Accreditation standards and criteria can be found here: NAEYC
Image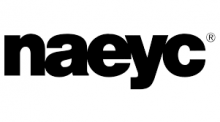 NAEYC Code of Ethical Conduct
The NAEYC Code of Ethical Conduct offers guidelines for responsible behavior and sets forth a common basis for resolving the principle ethical dilemmas encountered in early childhood care and education.  The ECCES staff are committed to honoring the ideals and principles of the code as well as upholding the code's core values.
Appreciate childhood as a unique and valuable stage of the human life cycle
Base our work on knowledge of how children develop and learn
Appreciate and support the bond between the child and family
Recognize that children are best understood and supported in the context of family, culture, community, and society
Respect diversity in children, families and colleagues
Recognize that children and adults achieve their full potential in the context of relationships that are based on trust and respect
Available online: NAEYC Code of Ethical Conduct
Above all else we strive to develop a caring community and maintain a harmonious environment for children, staff, families, and University partners.
Community Care Licensing
ECCES is licensed by the California Department of Social Services, Community Care Licensing Division.  Community Care Licensing (CCL) regulations outline required health and safety, environment, facility and administration requirements that must be followed by all child care programs. Each time an analyst visits the center, there is a "Notice of Site Visit" which informs everyone that there was a visit and if there were any violations found and if so, which type. These notices are posted on the communication board in the front entrance. To learn more about the California licensing regulations, please visit their website: https://www.cdss.ca.gov/inforesources/child-care-licensing
Facility #: 421708882, 421709944, 426206965, 426211959, 426211960